We are underestimating the reading ability of struggling readers.
The enemy is not the parent or the child. The enemy is the instructional approach. Change the approach and you will change the child's performance - regardless of age, classification or prior reading ability.
Researchers cite first ever evidence of actual brain rewiring in poor readers:
For thirty years, Failure Free Reading is the program schools and districts rely on for their chronically struggling students.
Let Failure Free Reading's non-phonic first intervention help you tap into the brain's neuroplasticity and visual reading pathway.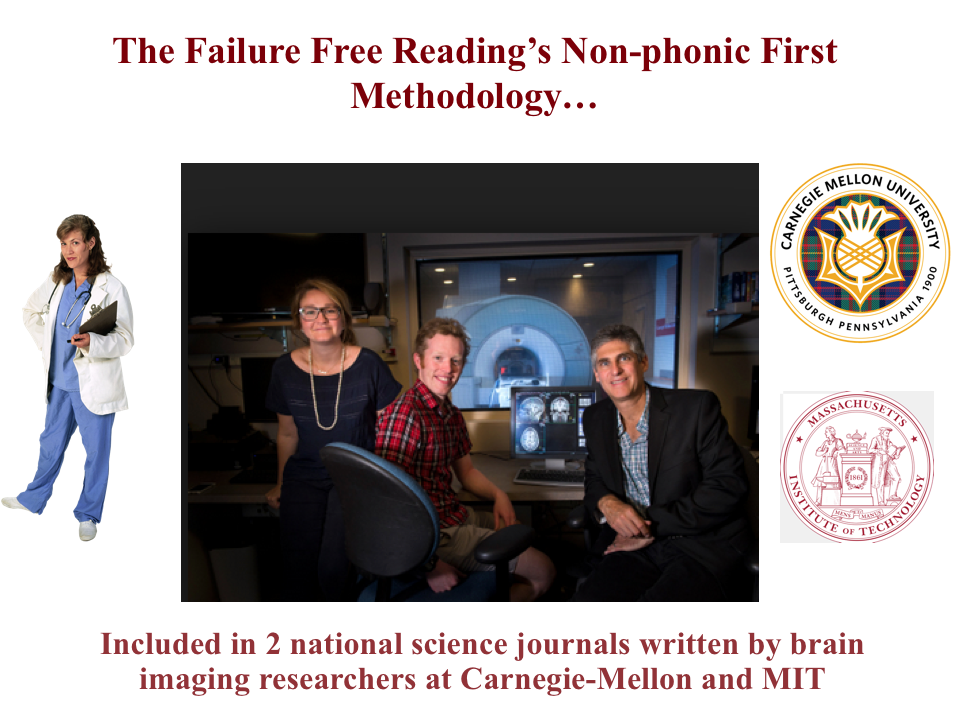 Brain imaging researchers from Carnegie-Mellon University and The Massachusetts' Institute of Technology have documented that Failure Free Reading's non-phonic reading intervention actually rebuilds cortical brain cells in the brains of poor readers, which was the first ever evidence of actual brain rewiring in poor readers.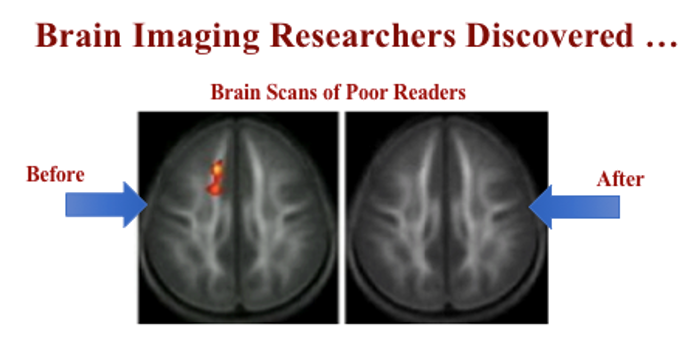 Failure Free Reading allows students, who don't easily get phonics, to tap into the brain's exciting non-phonic, visual pathway.
Failure Free Reading is a nationally recognized reading comprehension program for students truly struggling to learn how to read with meaning and expression. Failure Free Reading is particularly strong with students who don't get phonics or read aloud with little or no comprehension.
Did you know?
"Four Facts about Phonics"
Reading Researchers have found that:
1.
3 out of 10 students don't easily understand phonics.
2.
Phonics is painfully slow to teach.
3.
Phonics is not necessary in learning to read.
4.
One reading approach - which actually taught over 75 million students to read with full comprehension - never taught a single phonic lesson.
Failure Free Reading, which is designed to instill confidence, is very fast-acting and extremely parent and child friendly. Parents are given two instructional online options:
(1.) child initiated, self-paced, multi-sensory talking software lessons, complete with video instruction, or

(2.) adding a scripted parent-led guided-reading instructional component that precedes the child's online software instruction.
The amount of parent involvement is directly related to the child's daily progress.
Most children should do well working independently from the twenty to thirty minute, self-paced online instruction. Some, however, might need the parents to use the easy to follow scripted preteaching lesson prior to the self-paced instruction.
The product, which is 100% digital, also includes downloadable reinforcement activities. Failure Free Reading's 100's of daily lessons and thousands of reinforcement activities teach mastery of the critical academic vocabulary deemed necessary for reading success, from beginning 1st grade up to SAT/ACT.
The program's diagnostic assessment quickly identifies the child's current academic reading grade level and then automatically places the child in the Failure Free Reading story that best corresponds to this level. The program teaches a page a lesson from the selected story. It is recommended that the child complete at least one lesson a day.
Parents can easily review their child's daily progress in clear concise, understandable graphic reports. Parents can use this program with all of their school-aged children including children with special needs provided their special needs child or adolescent has a developmental age of six years old. Failure Free Reading is the visual antedote for children who hate to read, are truly struggling or can sound words out with zero comprehension.
There is help.