Based on the research of Dr. Lockavitch, former special education director, school psychologist, and university professor.
Evidence-Based, Reliable, and Replicable
Well-grounded in theory, Failure Free Reading is also one of the most thoroughly researched programs in education. In scores of studies, the program consistently produces significant, sustained gains in word recognition/attack, comprehension, and spelling for the lowest literacy students — without the need for expensive tutoring or coaching. In study after study, student improvements are evident on standardized test scores, attitudes, behaviors, and self-confidence.
Published in 9 Peer-Reviewed Studies:

Journal of Learning Disabilities
Special Servies in the Schools
Proven Practices
The Journal of At-Risk Issues
The Florida Reading Quarterly
The Australian Journal of Learning Disabilities
Multiple Voices
Neuron
Neuropsychological
The following are some of the instruments that have been used to assess student reading growth through Failure Free Reading:
Stanford Achievement
Ohio Proficiency
Woodcock Johnson
MAT7
NC EOG
MS EOG
ITBS
TN EOG
WISC-R
STAR Reading
FCAT
Likert Surveys
MEAP, LEAP
Curriculum Based
The data have been collected and the studies have been conducted by university researchers, district evaluators, school personnel, independent evaluators, and internally. Throughout all evaluations, Failure Free Reading has demonstrated success in accelerating the learning curve of the lowest reading students.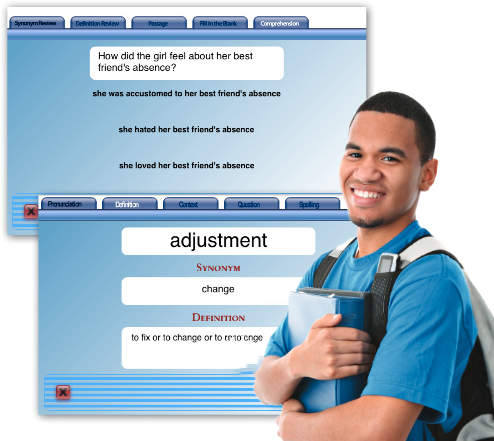 The left brain image shows the area of compromised white matter (blue area) among poor readers relative to good readers at the beginning of the study. The center brain image shows the area where the structural integrity increased (red/yellow area) among poor readers who received the instruction, and it is very similar to the initially compromised area. The right brain image shows that following the instruction, there were no differences between the good and poor readers with respect to the integrity of their white matter.

Credit: Timothy Keller and Marcel Just
Neuroscientists at MIT and Carnegie-Mellon University
have released dramatic first time evidence of actual brain rewiring in the brains of poor readers. The study, involving one-year follow-up brain scans, showed dramatic visual evidence that
Failure Free Reading's 100 hour reading intervention actually rebuilt white cortical matter in the under performing brain areas of poor readers, bringing them back to the normal range.
---
Seven schools in Washington, D.C. implemented Failure Free Reading in their Special Education Centers during a 4 week summer school program. A total of 250 students were selected on the basis of needing the greatest help in reading. The student classifications included LD, ED, Cognitively Challenged, Medically Involved, and ESL Grades 1-8.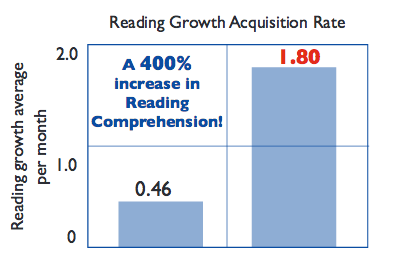 Growth Prior to Summer Treatment:

Students averaged 1/2 month reading comprehension growth for every month in school

Growth After Failure Free Reading Summer Treatment:

The same students averaged nearly 2 months growth for their month in FFR's Program
---
Don Brewer Elementary in Jacksonville, NC evaluated 27 students (grades 3rd, 4th, and 5th) in 2 classrooms. After 3 months of treatment, 19/27 students showed growth in reading comprehension with average growth being 6 months. In addition to measurements of reading comprehension, students were questioned "Do you think you can become a good reader?" Before Failure Free Reading, 17% of students did not believe they could ever become a good reader. After Failure Free Reading, 100% of students believed they could become a good reader.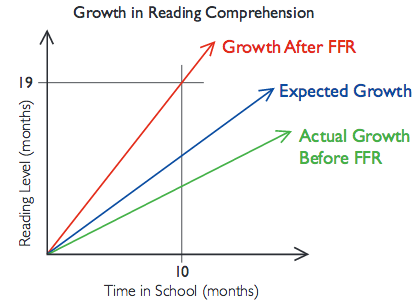 Anne Arundel County, MD evaluated 53 students (grades 1-5) that they considered their hardest to reach. After 27.9 mean hours of Failure Free Reading instruction, significant gains (p<0.05) were found on W-J Letter/Word Recognition, Word Attack and Passage Comprehension. For students testing below the 10th and 20th percentile, growth was even greater, with effect sizes of 0.84 and 0.71 respectively.