Secondary Solution
The Proven Method for Jumpstarting Your Non-readers!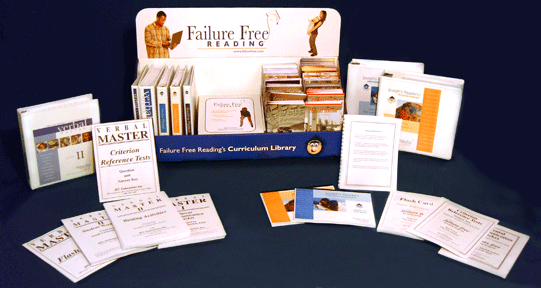 Designed for the most severely delayed readers in grades 6-12, Failure Free Reading's Secondary Solution combines the top two levels of the Elementary Solution (Orange & Teal) with all four levels of Verbal Master (l, ll, lll & lV). The program's unique multi-modal instruction combines scripted teacher lessons, talking software, and print reinforcement exercises. Intensive scaffolds and controlled, age-appropriate texts enable students to finally build the foundational language skills, and confidence, essential for further learning. In study after study, Failure Free Reading has demonstrated:
Dramatic, sustained gains in vocabulary, fluency and comprehension
Immediate, positive changes in student and teacher attitudes
Accelerated English acquisition for ELL students
Students quickly begin to read age-appropriate passages previously not thought possible, with full comprehension and fluency!
Components:
• Scripted Teachers Manual
• Student Workbooks
• Instructional Readers
• Flashcards
• Pre and Post tests
• Independent Activities
• Writing Activities
• Student Record Sheets
• Illustrated Independent Reading Booklets
• Parent Communication Packets
• Reinforcement activities
• Flashcards
• Certificates
• Talking Software