Elementary (K-5) Solution
Now Your Lowest 10% Students Can Read Age-Appropriate Content
With Fluency and Full Comprehension!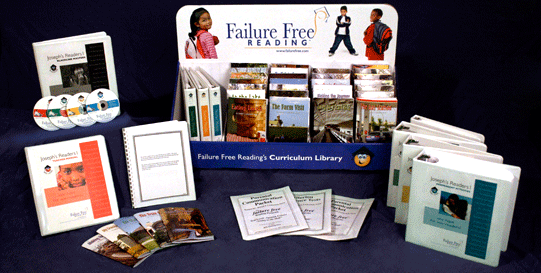 The Elementary Solution is Failure Free's original core program, designed for Special Education students, English Language Learners, and other elementary students stuck at the emergent reading level. The program's unique combination of scripted teacher lessons, proprietary Joseph's Readers talking software, and independent activities enable students to immediately begin to read age-appropriate passages with full comprehension and engagement!
This program explicitly teaches the most frequent 220 English (Dolch) words and EDL Core vocabulary. Students learn each word, sentence, passage, and complete story to full comprehension. Each lesson's pre-teaching directions and definitions are provided in both English and Spanish for English Language Learners (ELL/ESL).

Components:
• Scripted Teachers Manual
• Student Workbooks
• Instructional Readers
• Flashcards
• Pre and Post tests
• Independent Activities
• Writing Activities
• Student Record Sheets
• Illustrated Independent Reading Booklets
• Parent Communication Packets
• Reinforcement activities
• Certificates
• Talking Software